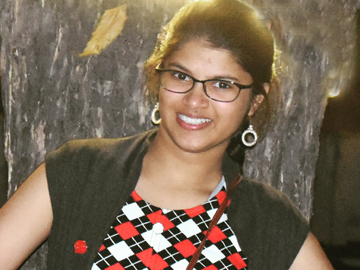 Being a researcher demands commitment, sustained effort, and a high level of inspiration. Ms Lakshmi Bhargavi from 3rd-year Computer Science Engineering has presented a paper titled "Application of distributed back propagation neural network for dynamic real-time bidding" at the 11th International Advanced Computing Conference (IACC-2021), hosted by the University of Malta, Europe. It is a reputed conference indexed in Scopus and DBLP, having H-index 25.
The research is based on the backend of ad placement on websites which involves finances. The process involves finding the best deal between the dealer and the supplier. In the present system, the bid is prefixed, thereby reducing the possibility of optimal budget utilisation. In comparison, Ms Lakshmi's research uses an ML algorithm, which is dynamic and learns from the previous bids. This research has resulted in 15% lower costs for the suppliers, thereby saving a lot of money and resulting in a better system.
Abstract — Programmatic buying, popularly known as real-time bidding (RTB), is a key ascendancy in online advertising. While data has become essential for targeting and ad performance, data businesses have become difficult to differentiate due to their proliferation, as well as limitations of attribution. This provides an opportunity for Big Data practitioners to leverage this data and use machine learning to improve efficiency and make more profits. In such an opportunity, the research came up with an application of a machine learning algorithm, distributed back propagation neural network, d-bpnn, to predict bid prices in a real-time bidding system. This paper depicts how d-bpnn is used to achieve less eCPM for advertisers while preserving win rate and budget utilisation.
The 11th International Advanced Computing Conference (IACC-2021) was hosted by the University of Malta, Europe, with an H-index of 25. The conference is indexed in Scopus and DBLP and in collaboration with Springer. A few selected papers will be published in SCOPUS/SCI Indexed journals. The presentation was held on 19th December 2021. It was an ideal platform for people to share views and experiences in Futuristic Research Techniques.
Let's hear from Ms Lakshmi:
My university has been with me in every step taken towards this conference. I would like to thank the mentoring of Dr Priyanka throughout the writing and presentation of the paper. The immense support of SRM AP management, my professors, HOD, Pro VC sir and VC sir made me reach the level to write a paper confidently and show my knowledge to the world.
I feel honoured to present a good paper at a global conference. The experience and connections I made through this conference are priceless. It gave me new insights into several other technical domains. I believe I gave my best at the unique opportunity given to me and hopefully will continue to deliver good work in future too.