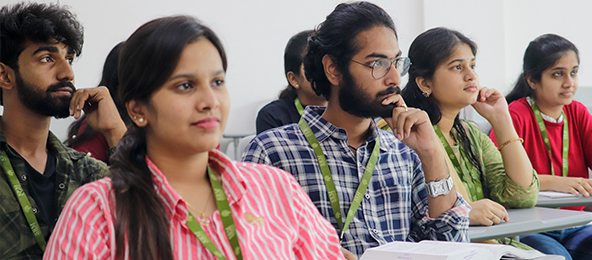 "Family businesses are the core of Indian economy," said Mr K R Sekar, Partner, Deloitte India in an interview with the Economic Times last year. Numbers back his claim as family businesses contribute close to 70% of India's GDP. They are as much about family values and legacy as they are about reinventing themselves over generations. As the flagbearers of a growth-oriented economy, they deserve a new vision to build on the legacy. MBA In Family Business offered by the School of Entrepreneurship and Management Studies (SEAMS) at SRM University-AP is designed to groom students for organic growth of their self and family businesses.
The Importance of MBA In Family Business
With a longer-term perspective compared to other organisations, family businesses have traditionally focused on the next generation for future growth. Young leaders in family businesses have the unenviable task of preserving the legacy while demonstrating their risk-taking abilities through nuanced plans, given the changed customer and business eco-systems. MBA In Family Business can be the vehicle for aspirants to discover their strengths, develop a vision for the future, and get in the driver's seat to promote growth. The experiential programme also aims to bring insights into family dynamics while shaping socially conscious leaders and game-changers of the business world.
New-age curriculum for new flagbearers of family businesses
Learning by doing under the watchful guidance of mentors is the foundation of MBA In Family Business programmes. Experienced academics as well industry pioneers and entrepreneurs pass on the proverbial mantle to the new generation through knowledge sharing. Electives designed for specific industry domains, leadership activities like role-playing, experiential courses and projects on building business plans and growth plans, are some of the hallmarks of new-age programmes. At SEAMS students also develop skills in emerging areas like Business Analytics, which encourage them to understand and work on past organizational limitations, through technological tools at their beck and call. and to take things to the next level.
SRM University-AP edge for business scions
Built on the pillars of state-of-the-art infrastructure, strong industry network, and international linkages with renowned institutions, SRM University, AP has made a mark on the global stage in a short span of time. Its collaboration with Harvard Business School Online has resulted in high impact online courses that help students learn about the best global practices. The learning model built around active, case-based and social learning enables upskilling of students and puts them at the forefront of an ever-changing economy. The university's emphasis on innovation is passed on to students, who can leave an indelible mark on the future of the business world.
Advantages of MBA in Family Business at SRM University- AP
Aligned with SRM University-AP's vision for leadership excellence, SEAMS is set to raise the bar for family businesses with this cutting-edge programme. Its future-focused curriculum delivered through new age pedagogies ensures that students understand their family business through diverse and holistic perspectives. While being part of the family business, students can learn, apply new skills and chalk out a growth map for the future. Overall, the programme equips scions with skills, vision, leadership abilities, practical exposure, and confidence to take over the mantle and be responsible for carrying the legacy of their family business into the future.