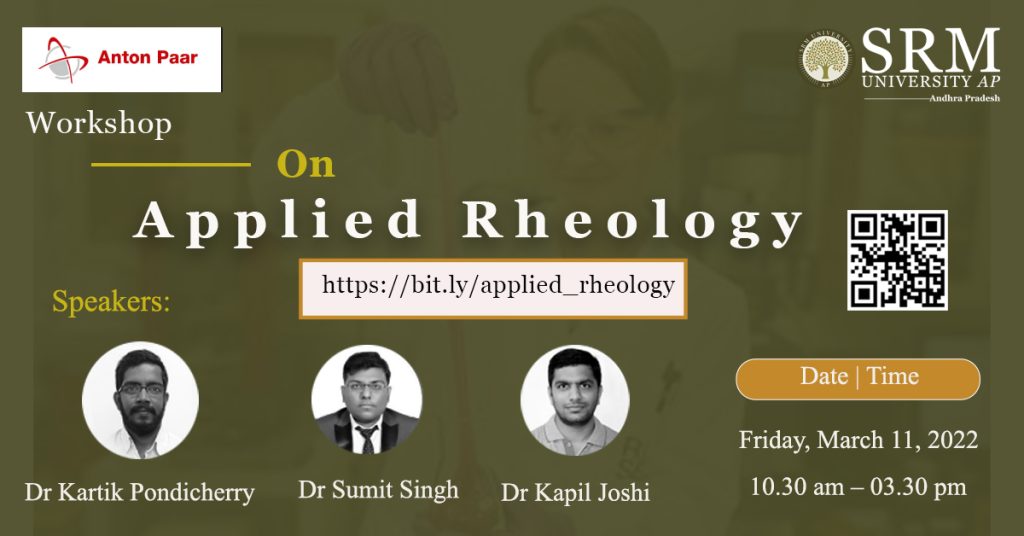 Department of Civil Engineering has organised a workshop on Applied Rheology on March 11, 2022, at 10:30 AM (IST). Dr Kartik Pondicherry, Dr Sumit Singh and Dr Kapil Joshi, Application Specialists at Anton Paar, India, will be delivering the keynote addresses.
About this workshop:
Rheology deals with the deformation and flow behaviour of materials. Rheology, in terms of viscosity and viscoelastic behaviour, plays a significant role in many aspects of production, processing, transportation, and consumption of materials and products. The current workshop deals with the basics of rheology with a particular focus on the real-life application of rheology in asphalt, polymers and the food industry.
Speakers:
Dr Kartik Pondicherry pursued his Doctorate in Tribology from the University of Leoben in Leoben, Austria. He started his professional journey at Anton Paar in Graz, Austria. With over a decade of experience in the field of tribology, Dr Pondicherry moved back to India to manage the tribology portfolio in the country. He joined Anton Paar India as a Technical Manager for Rheology. Over the past few years, Dr Pondicherry has conducted numerous seminars and training for people from both academia and industry in different parts of the globe.
Dr Sumit Singh completed his PhD on "Thermal and Rheological study on Polymer modified Bitumen" from IIT Roorkee. After his doctoral studies, he joined the Characterization Division at Anton Paar, India as an Application Specialist. His interest in Rheology lies in its wide range of applications and modularity. Dr Singh is experienced in organising training sessions and webinars. He also conducts lab sessions on various applications of rheology such as polymers, asphalt, DMTA, gels etc. His scientific papers have been presented in numerous National & International forums. He has further received a few academic accolades in his research career.
Dr Kapil Joshi is presently working as an Application Specialist for Rheology & Particle Characterisation in Anton Paar, India. He pursued his doctoral studies in Materials Science in the area of semiconductors & ion beams from the University of Mumbai. After that, he carried out post-doctoral work at the Tata Institute of Fundamental Research (TIFR, Mumbai). His area of research was organic LEDs & solar cells. During his previous engagements, he worked on techniques such as electron microscopy, atomic force microscopy & nanoindentation. In Anton Paar India, he is responsible for analysing samples, delivering talks & conducting training sessions on various aspects of rheology & particle characterisation in the area of polymers, pharma formulations, powders etc.
Convener:
Dr GVP Bhagat Singh, Assistant Professor & Head, Department of Civil Engineering, SRM University-AP, Andhra Pradesh
Co-Conveners:
Dr KVNS Ravi Teja, Assistant Professor, Department of Civil Engineering, SRM University-AP
Dr Thainswemong Choudhury, Assistant Professor, Department of Civil Engineering, SRM University–AP
Register here to join the workshop.