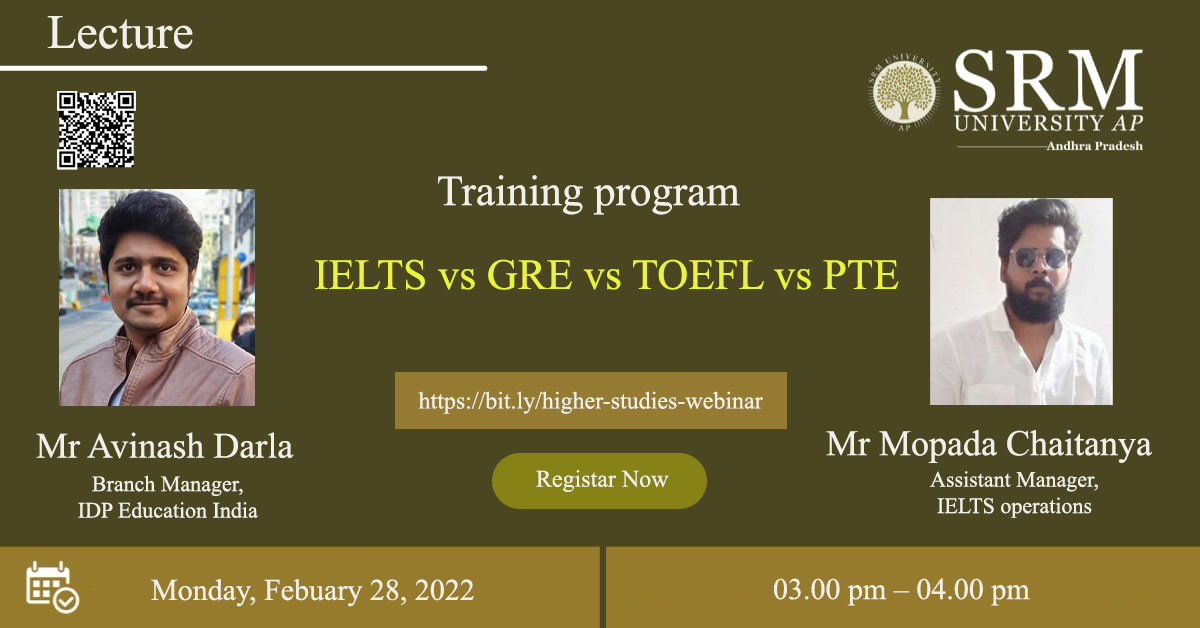 Do you dream of an international degree? Qualifying an English Language Proficiency Test is the initial step towards your dream. Having an array of standardised language tests to choose from, such as IELTS, GRE, TOEFL, PTE etc., students are often perplexed to reach a decision. The test you give depends on many factors; the country you prefer to move to, the university you have applied for, and the course you have enrolled in. An accurate understanding of each language test is therefore essential to make your journey easier.
The office of International Relations and Higher Studies at SRM University-AP is organising a webinar: Lecture on Training Programmes: IELTS vs GRE vs TOEFL vs PTE as part of the Higher Education Series to educate students on the purpose of different language tests. Each test has a different pattern, grading structure, and testing method. The lecture intends to throw light into the distinct features of each test and the learning approaches they require.
Become a part of the workshop and learn to ace any English language test.
Date: February 28, 2022
Time: 3.00 pm to 4.00 pm IST
About the Speakers
Mr Avinash Darla is the Branch Manager of IDP Education, India. He has 11+ years of experience in the Education Industry- Training, Overseas & Domestic Education. He has served as the Business Head of Abroad Avenue, Branch Manager of Akash Education Pvt Ltd, State Head of Fliplearn Education India, etc. He has also received multiple certifications from esteemed organisations like Qualified Education Agent Certification – PIER International, Australia; Study & Live in UK Certification – British Council & Future Learn; Business Strategies Education & Development- University of Hertfordshire, UK and many more.
Mr Mopada Chaitanya is the Assistant Manager of IELTS OPERATIONS, Telangana. He has also been working with IDP Education since 2014. He holds a degree in Bachelor of Business Management.