Saturday, 27 November 2021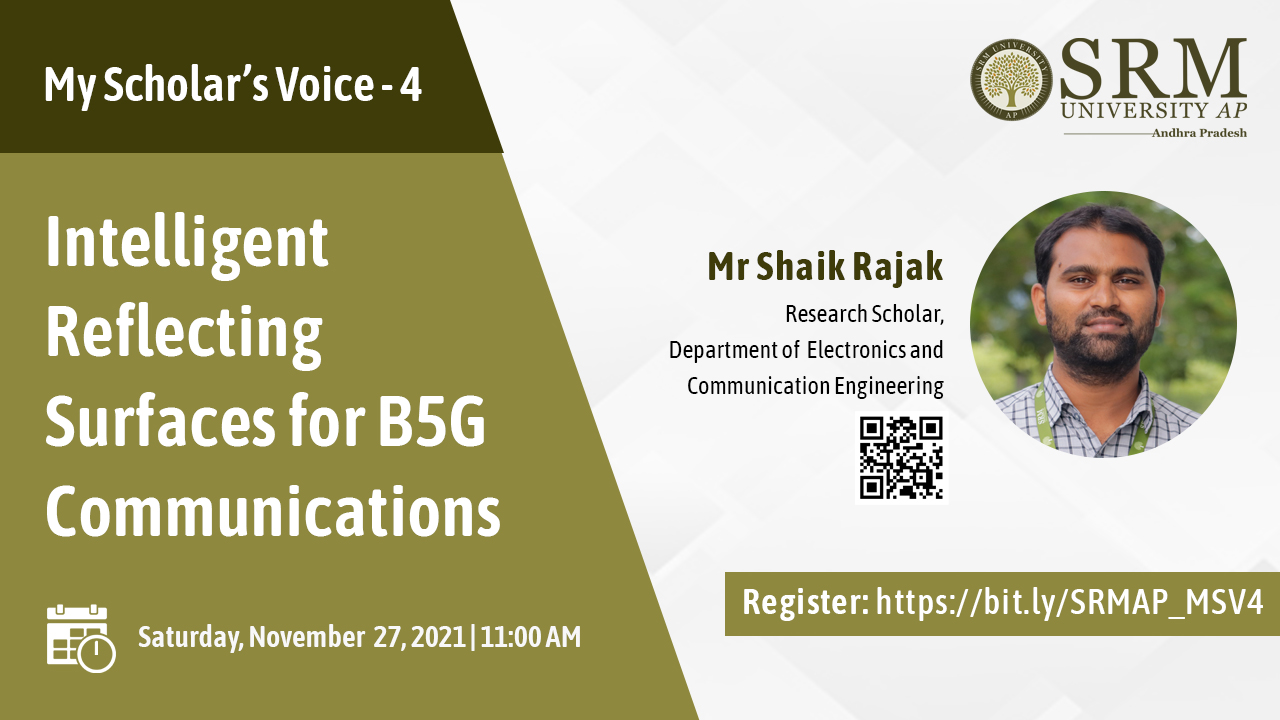 The world of communications is constantly changing. It is transforming, evolving, and becoming better, faster, and smarter. So, for the fourth edition of My Scholar's Voice (MSV-IV) we would like to present Shaik Rajak from the Department of Electronics and Communications Engineering for a titillating discussion on "Intelligent Reflecting Surfaces for B5G Communications" on Saturday, November 27, 2021, at 11.00 am.
Shaik Rajak will give us an insight into the future with communications with his talk. He will elaborate in this session on the importance of his research. He will talk about the scopes of implementation as well as further research that can follow his work. It would be really beneficial to learn about the developing phase of communication research to make an informed decision while choosing research or career plans.
About the speaker:
Shaik Rajak received his B. Tech degree in Electronics and Communication Engineering from JNTU, Hyderabad in 2013. He completed his M.Tech. in Electronics and Communication Engineering, JNTU Hyderabad in 2016 and is currently working towards the PhD at the School of Engineering And Science (SEAS), SRM University-AP, Andhra Pradesh, India. Before joining SRM University-AP, he worked as a lecturer for a year in QIS College of Engineering and Technology (QISCET), Andhra Pradesh. He was awarded a gold medal for the paper presentation organized by SRM University-AP. His current research interests include the Internet of Things, beyond 5G communications, Intelligent Reflecting Surfaces, Millimeter-wave, Massive MIMO, OMA, and NOMA schemes.
So, take a seat and be a part of this amazing session on Saturday, November 27, 2021, at 11.00 am to hear from Shaik Rajak's voice in MSV-IV.